Introduction:
When customer needs flat steel sheets in very high precision or wants to flatten softer metal such as aluminum alloy, 6-Hi leveler and cut-to-length line is needed.
The following layout can be as reference:
hydraulic coil loading car, Hydraulic tension decoiler , hydraulic coil head supporter and presser , Side guide I , first 4-Hi leveler, hydraulic accumulator, side guide 2, 6-hi precision leveler, Film-laminating device, high speed mechanical shearing machine, delivery roll table, pneumatic piling-up platform, hydraulic lifting sheets collector, sheets discharging table, hydraulic system, pneumatic system, electric control.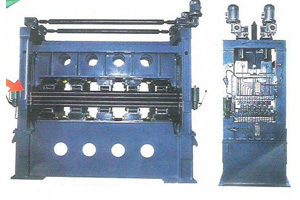 6-Hi Leveler and Cut-to-Length Line
Leveler and Cut-to-Length Line Advantages and Characteristics:
1. higher precision
Sheet length precision: ≤±0.50mm/2m
Sheet diagonal length precision: ≤±1. 0mm/2m
leveling precision: ≤1.50mm/m2
2. 4-hi first leveler is normal leveling machine, compared with 6-hi fine leveler, its leveling roller diameter is bigger and roller quantity less.
3. 6-hi fine leveler is composed of upper beam and lower base, there are three layers in upper beam or lower base: leveling rollers, middle rollers and backup rollers.
4. Lenzn servo motor as drive motor to drive 6-hi leveler and measure leveling speed.
5. Filming equipment is installed after fine leveling and before shearing when film coverage protection on sheets are needed.
Leveler and Cut-to-Length Line Layout Drawing

Wuxi Jinye Hydraulic Pneumatic Complete Set of Equipment Co.Ltd is a professional manufacturer and supplier of leveler and cut-to-length line in China. We still have other products: steel coil slitting line including thin coil slitting line, middle thick coil slitting line and thick coil slitting line; etc. With good quality and affordable price, our products, including leveler and cut-to-length line has been exported to many countries, such as Germany, Holland, India, Indonesia, New Zealand, Syria, United Arab Emirates, Russia, Kuwait, South Africa, and Bangladesh.